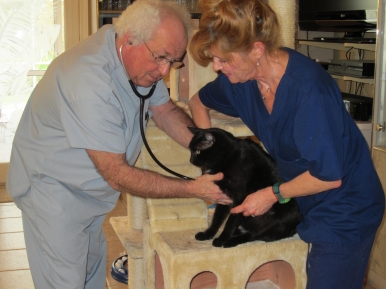 We, at Vets to Pets, will always strive to provide you and your pet excellent service during each and every house call visit. We will give your pet the highest quality preventative and pet health services. Our goal is to educate and promote wellness with leading edge technology and products to assist your pet in living a longer, happier and healthier life. We will support you through emergencies and sickness. And, as your pet ages, we will compassionately guide you with care and special needs your companion requires.
Meet our Experienced Team
We're pleased to provide a wide variety of veterinary care for your pets.

Dr. George Zafir was born in Hungary and arrived in the United States by way of Canada in 1994. He graduated with his Bachelor of Science Degree from McGill University in Montreal, Quebec, Canada. His Doctor of Veterinary Medicine was obtained in 1983 from the University of Guelph, Ontario Veterinary College, Ontario, Canada. He has practiced for 36 years exclusively with cats and dogs. His first 21 years in the USA was spent as the Medical Director of a Small Animal Hospital in mid Palm Beach County. The past 4.5 years, he was practicing entirely as an Emergency Medicine veterinarian at a 24/7 urgent care facility in Broward County, as well as developing the mobile housecall service. The only thing that exceeds his passion and expertise for veterinary medicine is his compassion for his patients and their guardians.
He is married to the same beautiful wife of 35 years. He has 3 adult children, 1 dog and 2 cats. Dr. Zafir enjoys biking, swimming and reading. Dr. Zafir is also enthralled with rappelling off mountains, skydiving, volcano explorations and great white shark encounters, but only in his dreams! Most important to Dr. Zafir are his family, friends and the wonderful relationships developed over the years as a veterinarian.
Fill in the form below to contact us
The absolute fastest way to get in touch with us is by phone:


561-376-6568